REVISIT BLOGS. REWRITE.
The thought of communicating a teacher from a student is rapidly decreasing. It's a classic scene today: students all in the same room not saying a word out loud, but chatting with each other in real-time via their digital devices. As educators, it's important to keep an eye on the changing trends in how the youth communicate so that we can continue to reach students in personalized ways. To get our teachers more engaged and students to increase the interactivity with the teachers, we bought the chat feature in our application.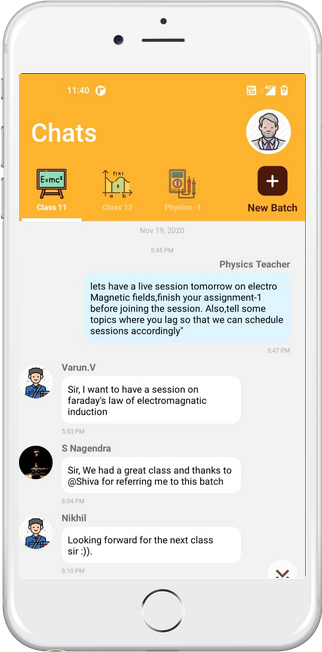 Our chat feature is nothing less than a general chat application in the current world. But the main goal to bring it in our application is to increase the interactivity between students and their teacher. This increases his confidence in asking questions to his teachers in the physical world as well, as he is used to asking questions to his teacher regularly.
In ClassSpace chat rooms are divided into batches. All the students in a batch are grouped in one chat room. This helps in broadcasting messages, doubts, answers from teachers to all the people in the batch.
Class Space helps teachers and students to send images, documents, videos, text messages in the chat room.